16 May

Drain and Sewer Services Take delivery of RCV Ultra Clean recycler

Click through for a reminder of the specification of these tankers.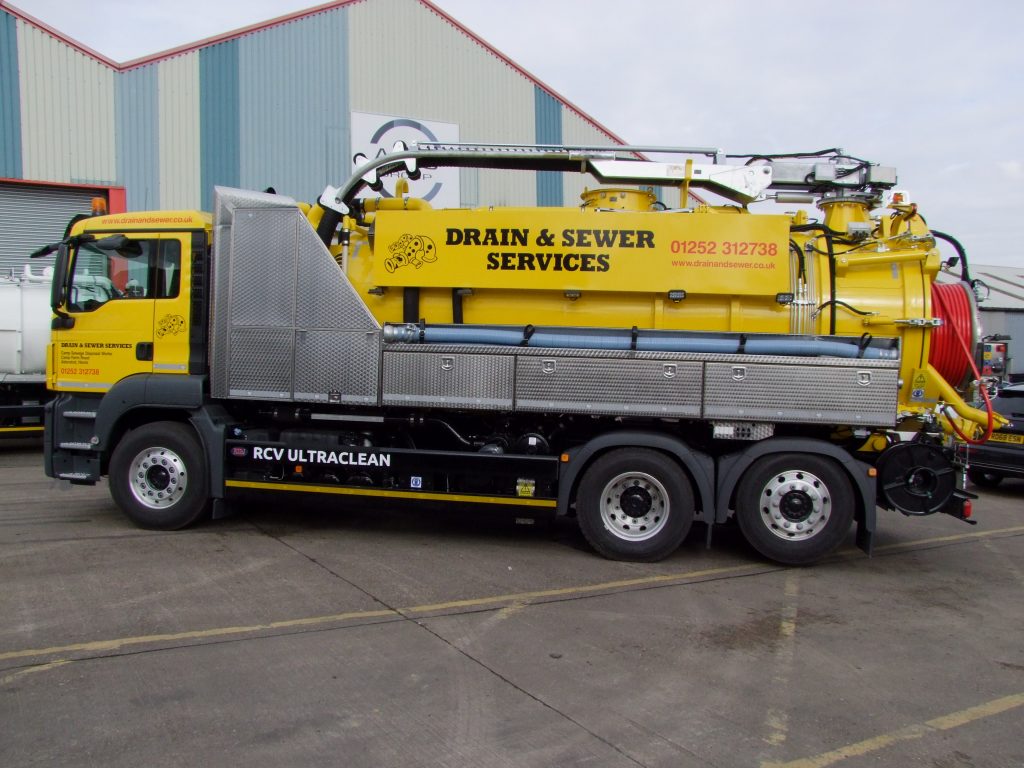 MAN TGS 26.420 6×2 day 1/2 cab with rear steer, bluetooth, reversing camera, Alcoa alloy wheels and 3 years' warranty
3200 gallon tank, split 1200 gallon fresh water / 2000 gallon debris, manufactured from 5mm 304 stainless steel
Jurop PVT 400 vacuum blower pump with air injection giving 1550 CFM suction. Operating at 75dB.
Speck P81 jetting pump giving 75gpm @ 170 bar
Two stage dirty water recycling cartridge filtering to 50 microns
Automatic recirculation system to remove sediment from bottom of water tank
Jurop large capacity, fully hydraulic main hose reel fitted with 150m of 1″ rubber jetting hose
Auxiliary hose reel fitted with 120m of 1/2″ hose
Jurop top mounted 6″ suction boom with 300 degrees rotation including Wanda lead connection points
Fully opening hydraulic rear door
4″ pneumatic slider bottom loading inlet valve with internal stack pipe
6″ pneumatic slider outlet valve • 4″ manual decant valve with internal filter
Control box mounted on nearside rear with jetting controls on main hose reel
Radio control as standard
Ample storage with lockers on nearside, hose trays on offside, signage storage behind cab and mesh basket to rear
Level indicator on rear door and 2″ sight glass on water tank
Payload 9.3 tonnes